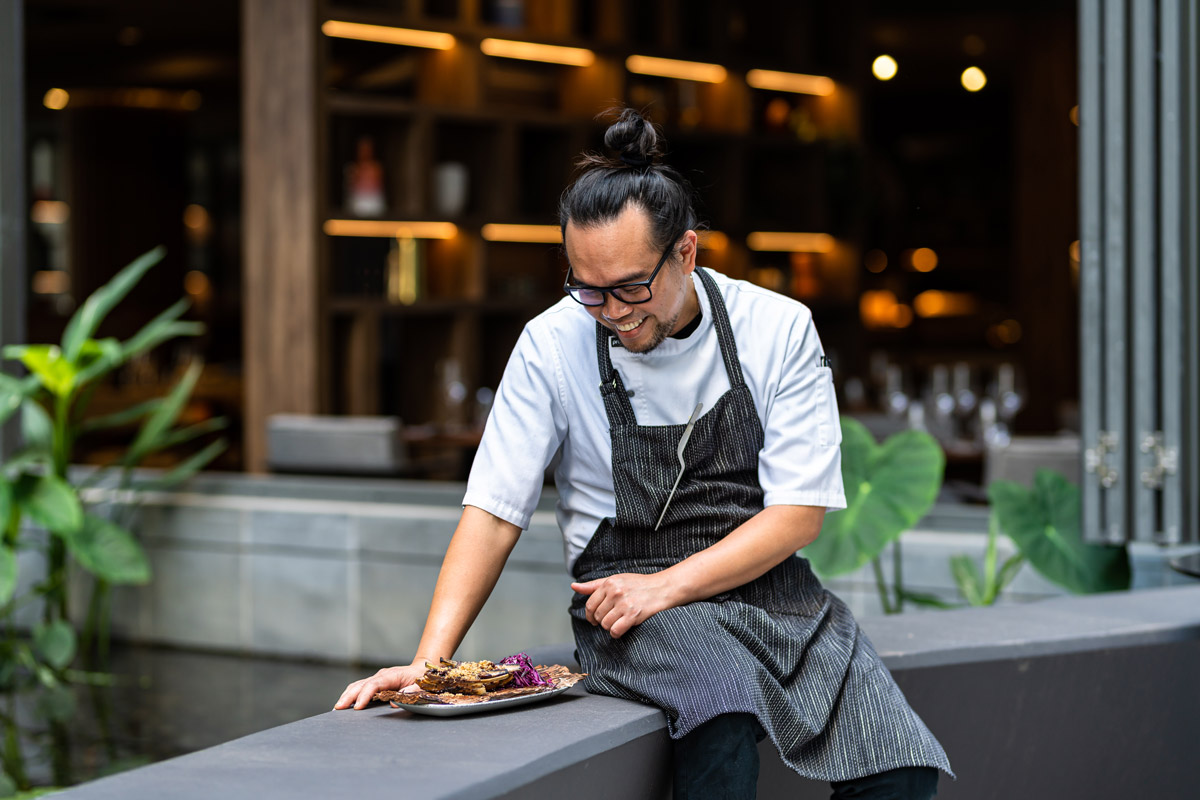 Producing the zingy miss mi flavours Melbournians have come to know and love, Filipino born de Leon will be at the helm of the Perth kitchen, promising to whisk taste buds on an unforgettable journey through Asia with a flavour saturated menu guaranteed to delight.
Falling in love with food at a young age, Alex honed his skills at the prestigious Asian Development Bank in the Philippines. He brings his passion for modern and traditional Asian techniques and ingredients to Miss Mi's menu, infusing classic dishes with bold, exotic flavours whilst also incorporating uniquely West Australian produce, showcasing his commitment to sustainable, local food practices.
With over 16 years of experience in some of Perth's most prestigious restaurants including; Gargano Ristorante, Apple Daily, Key Chow House, and Dainty Dowager, Alex is guaranteed to impress even the most seasoned foodies.
Today we sit down with Alex to get to know more about his cooking ethos and what's in store for Perth diners when Miss Mi Perth opens on 3 February.
Q: Where were you born?
I was born and raised in the Philippines and moved to Australia in 2006. I got a call one day from my Mom here in Perth that I could come to work here in Australia at an Italian restaurant. I migrated here to have a better life.
Q: How long have you been a chef?
I have been working as a chef for more than 17 years, starting in the Philippines at Asian Development Bank doing private catering. In 2006 I was sponsored to work in Australia at Gargano Ristorante in Nedlands and moved to Perth. After six years I was part of the opening team for Apple Daily Restaurant and fell back in love with Asian cooking under the guidance and mastery of Chef Sunny De Ocampo. After Apple Daily, I managed Low Key Chow House and Dainty Dowager for almost five years. During that time the restaurants were featured in the Good Food Guide and Gourmet Traveller Magazine to name a few! My signature Sticky Pork Mantao Buns at Low Key Chow House put us on a foodie map in Perth and sold like hot cakes. I kid you not, every table got them! You'll have to come and visit us at Miss Mi Perth to see what new signature dishes we have in store.
Q: When you were younger, what (or who!) inspired you to become a chef?
I used to watch 'Wok with Yan' with my mom and other cooking shows on cable TV. Cooking shows were starting to pop up. I would always watch Iron Chef Japan, the likes of Susur Lee, Emeril Lagase, Anthony Bourdain, Ming Tsai etc. Susur Lee and Ming Tsai were my biggest influences for their East meets West take on Asian cooking.
Q: Was there anything you wanted to do before you fell in love with cooking?
Since my younger days I always wanted to be a chef. Growing up my mom always cooked and I would watch and learn from her. At the age of 16 I cooked for my Dad's friends for the first time. I had been watching those cooking shows so dad bought me some ingredients and I cooked my heart out! They all loved the meal, and the rest is history.
Q: The Miss Mi brand concept focuses on the ancient proverb 'preserve the old, but know the new'? What does this proverb mean to you?
We are all about showing respect for the old flavours and traditional aromatics while showcasing new techniques. We want our guests to experience something new each time they visit us at Miss Mi.
Q: What was your favourite thing to eat when you were a child?
I grew up eating burgers! My mom would always say I would cry every time we went out for a meal and I didn't like the food. I would stop crying if they bought me a burger.
Q: What is your favourite Asian country to travel to for foodie experiences?
Singapore, In my opinion, is the ultimate food destination. From hawkers to fine dining, you can just literally walk from where you're staying and find an array of hawker stalls to try.
Q: What drives and inspires your love of cooking today?
I always watch travel channels and watch as other Filipino Chefs get their Michelin Star awards. I push myself because there's still a lot more to learn out there.
Q: The Miss Mi flavours may come from centuries-old recipes, but the presentation and technique is very much in the here and now. What can Perth diners expect?
Diner's can expect something different. We are here to help our guests explore what traditional and non traditional modern Asian cooking looks like today as it continues to evolve. You'll also find some signature dishes from Miss Mi Melbourne.
Q: For the Miss Mi menu, can you tell us which Asian regions you've drawn inspiration from?
We pull most of our inspiration from South East Asia. I've drawn some inspiration in my home country as well as Malaysia, Singapore, Thailand and Vietnam. But the menu will constantly evolve around the fresh seasonal produce we use here in Western Australia.
Q: What do you think sets Miss Mi apart from other modern Asian restaurants in Perth?
In 2012, I was at the forefront of Perth's changing dining scene. At that time, stuffy and formal degustations at fine dining establishments started to give way to fun, share-style dining. The modern Asian dining scene continues to evolve and at Miss Mi we focus on the traditional art of Asian barbeque and grill cooking to bring our dishes to life. We've incorporated char grill flavours with our house made sauces too so you get that wonderful smoky taste. We'll also be incorporating some local native ingredients that are unique to Western Australia.
Q: Miss Mi menu uses 'hyper-local' produce, what does this mean?
As much as possible we go to local farmers for our meat and buy WA local produce. Working with local growers and artisan producers also means our menu can evolve authentically with the seasons. We are lucky we can get most of the ingredients we need from our local producers.
Q: The label 'Asian fusion' gets used a lot and often results in confused or muddled menus that lack clear direction. Why do you steer away from 'fusion' at Miss Mi and focus on authenticity instead?
At Miss Mi we take a bold approach to exploring what authenticity means to us as modern Asian dining continues to evolve. Australia is seeing more Asian chefs who were immigrants to Australia as children start to lead their own restaurants and have their say on what authenticity means to them. At Miss Mi, diners will find dishes from across South East Asia with some modern twists and interpretations, but to me that's not fusion. That's evolution. The storytelling Asian Australian chefs are doing at the moment through their menus makes it a really exciting time to be opening our restaurant. I have loved watching what Khanh Nguyen (Sunda, Aru) and Victor Liong (Lee Ho Fook) have been doing over east.
Q: The beverage list at Miss Mi has a lot of Asian influences. What's your top tipple to pair with the Miss Mi menu?
The Pandan Escape can be paired with any curry we have. Is sweet and creamy and very well balanced. The Ferngrove Riesling is also an outstanding pairing for many of our dishes.
Q: What Asian ingredient is your favourite?
Annatto seed. You can use it for colour and the nutty, earthy, floral taste is really unique. I used this for basting and for sauces as well.
Q: When you're off work and you're looking for great Asian food in Perth, where do you go and why?
I'm easy on dining out, I want it simple. I would devour a house made noodle soup at Big Mama's at Coventry in Morley or eat at Tra Vinh for Pork Chop Rice with broken rice. Or foods that are comforting such as my local Ready Eddies Eatery (Filipino Eatery) at Hamilton Hill.
Q: What kinds of Asian foods or food regions are underrated right now?
Filipino food, unlike other Asian cuisines, is still not quite at the same level of popularity yet, but watch this space as things are changing. American chef Andrew Zimmern made the call in 2012 that Filipino food would be the 'next big thing' as did Anthony Bourdain in 2017.It has been a slower road than predicted but there's exciting times ahead.
Ready to be one of the first to experience new Miss Mi Perth? Book your table today or view our latest menus.