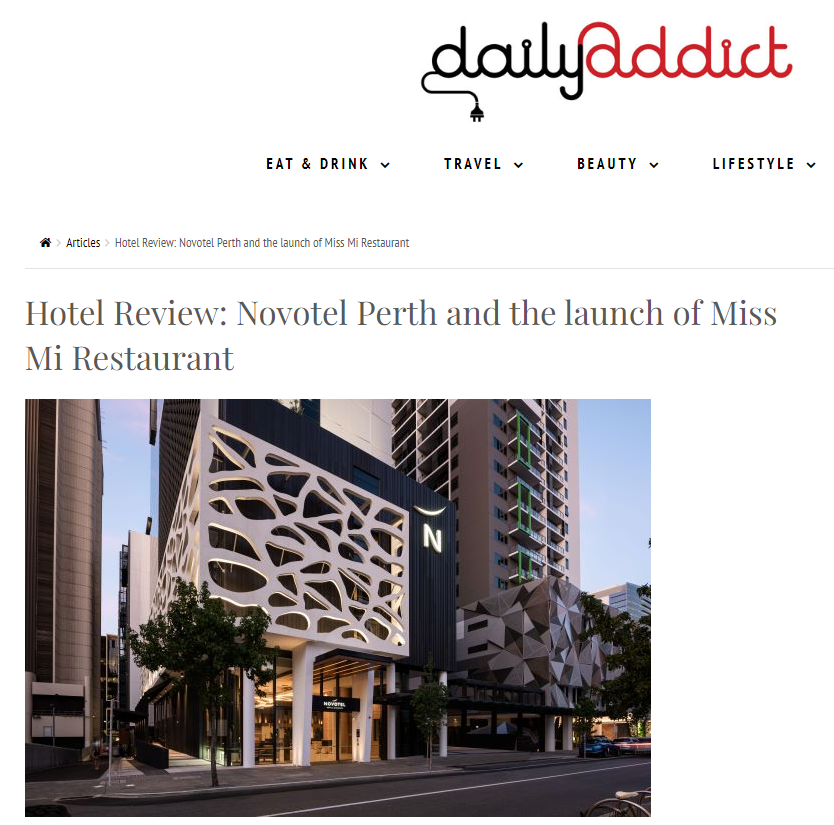 With just a couple days after opening Miss Mi Perth, Daily Addict gives a sneak peak on their hotel stay and dining experience here at Novotel Perth Murray Street.
The article goes on to tell the story from the moment of entrance in the hotel to their final hours of dining at Miss Mi. They described the hotel as a modern place of worship with its high ceilings and beautiful lighting fixtures. It stands apart from any other Novotel in its luxury architecture and bespoke design.

Their experience of Miss Mi was a delight to say the least. Think everything char, smoked, grilled, fermented and spiced. Whilst ordering the Prawn Toast, Pandesal, Kinilaw Pilipino, Miss Mi's Chili Crab & Prawn Dumplings, WA Grilled Prawns and Chicken Inasal, the famous Wasabi Mi cocktail got brought to their table which they described as a refreshing blend of gin, cucumber, lemon and you guessed it, wasabi!
The Daily Addict writes "After dining here we are so happy and grateful to have experienced the skills of this amazing chef who honours his heritage and country. Our parting words to WA are "Paalam na po", not goodbye, but see you later…"
Read the full Daily Addict article.
To learn more about Chef Alex, read our Q&A.
Ready to be one of the first to experience new Miss Mi Perth? We open from Friday, 3 February. Book your table today or view our latest menus.