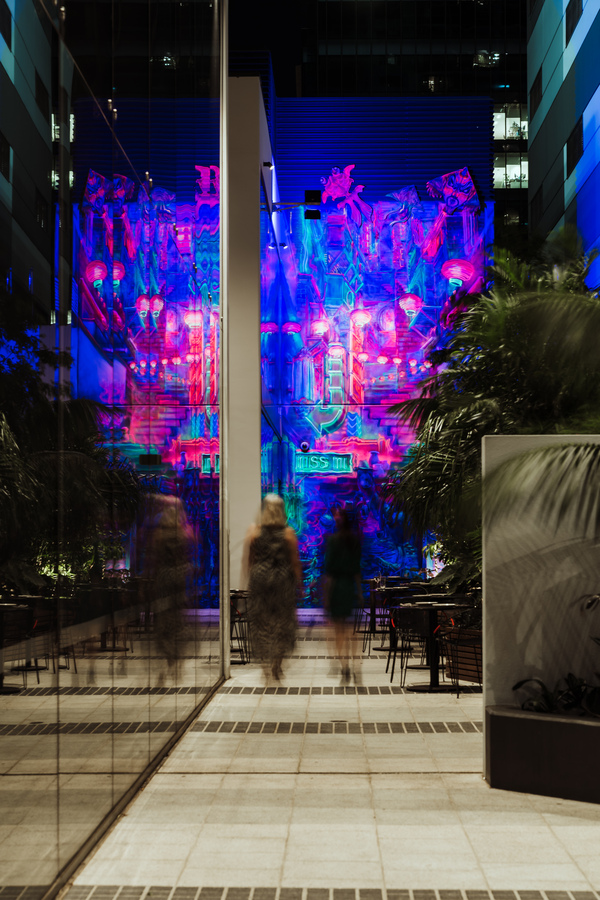 'Not a creature was stirring, not even a mouse.'
Over the festive season, city dwellers and the few remaining city workers toiling over the break may have noticed something afoot at the west end of Murray Street.
The Miss Mi Perth team had put out a call to Perth's best street artists, inviting them to help us liven up a very large and very white wall at the entrance to the restaurant.
Out of the many talented artists, the dazzling neon portfolio from muralist and artist Drew Straker of Mastermind Murals (nationally recognised Perth based mural and graffiti artist) had us really excited. Briefed to bring to life both Miss Mi Perth's traditional Asian roots and distinctly Western Australian home, Drew got to work over the Christmas period.
Inspired by a traditional Chinese streetscape dotted with red lanterns alongside a nod to WA via the addition of local native animals, this highly detailed painting draws eyes to the sky with flying Chinese kites. Fast becoming a 'gram-worthy selfie spot for Miss Mi diners, Drew's masterpiece now comes to life at night, lighting the way to the restaurant's doors from bustling Murray Street.
We recently sat down with Drew to ask him about Miss Mi Perth's mural, the inspiration behind his work and where his journey will take him next!

Q | What inspired you to pursue art as a career? And/or what were you doing before you became an artist?
As a child I always liked to draw, most often copying artwork from comics and cartoons using an HB pencil. From as far back as when I learned to write I had a definite interest in lettering and it seemed that my foray into the world of graffiti art was inevitable and come the mid 1990s I swapped my pencil for a can of aerosol paint.
Q | How did you develop your unique style of painting with neon?
To fabricate true glass neon signs along with their electrical components, transformers, framework and installation is inherently highly expensive. I developed a way of using aerosol paint to create the illusion of neon signs more or less as a means to an end , the style of which I find both exciting and challenging to paint with plenty of room to further develop and blend with other painting styles.
Q | What do you love about neon? What makes it unique verses other types of murals/street art?
Creating neon either in it's true glass form or a painted illusion requires a conservative use of line – a glass tube that comes in limited lengths and colours, therefore I have to paint in the same way – true to how a neon glass bender would create their signs. True neon brings life to a city, its illumination signals that their is something to discover within the premises it's installed, it's type of glow is superior to that of modern LED signs that lack the type of warmth that neon creates and also the lifespan. There are famous neon signs around the world that have retained their glow for many decades whilst enduring exposure to the hottest summers and coldest winters.
Q | The Miss Mi mural is a very large creation, is it one of the biggest you have done in Perth?
Having completed a 500 metre long wall mural in recent years it's always hard to get close to that scale – it's rare to even have a wall of that scale! However, the selected site of the Miss Mi mural represents the most narrow and tall wall I've done.
Q | Can you tell us about the challenges of painting something this tall or any other complexities of this project?
The style of the Miss Mi mural is traditionally known as "Trompe-l'oeil" which loosely translates as "to fool the eye". Commencing such a style involves correct placement of a series of guidelines that integrate into the buildings and infrastructure around the wall itself in order for the perspective to appear true. Since the mural is being bored from right beside the wall or as far away as 30 metres it poses additional challenges in how these guidelines are composed on the wall. Combine this with working within the constraints of a scissor lift where you can't actively step back and gauge the progress without repeatedly going up and down, getting on and off the scissor lift, it was a creative challenge I enjoyed.
Q | What is your favourite part of the Miss Mi mural? What element was the most fun to design/paint?
There is an area on the Miss Mi mural site that can't be painted, its a series of vents located at the top of the wall, visually it would clash with the artwork and make the painting appear smaller in scale however the decision was made to capitalise on this space and attach a series of traditional Chinese painted kite cut-outs. By attaching these additional elements to the vents it gives the artwork far greater scale and a sense of open air. All in all, I like the way the artwork draws the viewers eye from the ground to the sky.
Also, this mural is unique in that it has been illuminated with a black light system which when combined with the fluorescent paints used makes the artwork essentially glow almost like a film being projected onto a wall.
Q | What project are you working on next? 
My primary focus for the start of the year is to do a series of pop up art activations and workshops, particularly but not limited, to youth, where activities include their participation to learn some spray painting techniques and help create one big artwork as well as creating bespoke sprayed t-shirt designs using the ideas the kids bring to the table. 
Take a look at this 3-month artistic genius in just 30 seconds…

Ready to be one of the first to experience new Miss Mi Perth? Book your table today or view our latest menus.